Many people believe that Spring is the best time to list their home for sale. While it is true that buyer demand is high in the Spring, there are certain advantages you have by selling before the market gets hotter in the upcoming months. Below are some reasons why selling your home NOW may be a better option.
Only Serious Buyers Are Out Now
During this time of year you will not be bothered by people who are "just looking." The buyers in the winter are serious about purchasing a home. The people who normally are just looking at homes make up far more of Spring's potential buyers.
Quicker Process Time from Contract to Closing
With fewer homes under contract this time of year, the lighter workload will allow mortgage companies to process the application of the buyer in a more timely manner, thus meaning you can close sooner.
Less Competition
The supply of homes for sale is lower this time of year. With fewer homes to choose from, your home will stand out more. Would you rather be competing with 10 homes in the same market or 25 homes in the same market? Less competition = a buyer has a greater chance of purchasing YOUR home.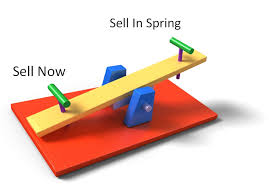 Ultimately, you can play the guessing game, but if you are ready to sell, there is not a bad time. For example, there are a lot of military families transferring to our area at all times. What if an officer will be stationed at Andrews Air Force Base, for example, is stationed in Germany now? They have been given 3 days to come to this area to find a home and the 3 days happen to be in the middle of February. If you decide to play the waiting game, they will never see your home.
In summary, there are advantages and disadvantages to every time of year. If you are considering your options and would like to know how much your home is worth and if now is a good time to list your home for sale, Bernie Alvey will be happy to give you a free, no obligation market analysis of your home. Bernie Alvey specializes in listing fine homes in suburban Maryland. Contact him today to get a free analysis of home much your home is worth and let him show you how he can sell your home quickly, hassle-free and for top dollar!