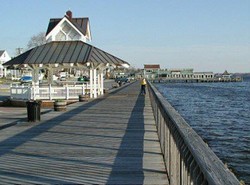 Calvert County, MD is nicknamed "Charm of the Chesapeake." It is located in Southern Maryland on the Calvert Peninsula, which is bordered on the east by the Chesapeake Bay and on the west by the Patuxent River. Calvert County is Maryland's smallest county in land area with 213 square miles. It is home to over 87,000 people and has one of the highest standards of living in Maryland. There are more than 5,200 businesses in Calvert County, MD and a labor force of at least 1.8 million resides within a one hour drive. Major industries include defense contracting, information technology, tourism and administrative services. Calvert County's residents are among the highest median household income in the United States.
Calvert County, MD also features a water park, and museums.
We have extensive knowledge of all areas of Calvert County. If you want to sell your home, buy a home or finance a home, you've definitely come to the right place!
Search by City:
Broomes Island, MD Homes for Sale
Chesapeake Beach, MD Homes for Sale
Huntingtown, MD Homes for Sale
North Beach, MD Homes for Sale
Port Republic, MD Homes for Sale
Prince Frederick, MD Homes for Sale
Saint Leonard, MD Homes for Sale